Southern Comfort Pergola Kit
Home of the "Southern Comfort" Watertight Pergola Kit.
Solar Gray Polycarbonate Sheets are added to our ATTACHED PERGOLA to create a roof that is not only beautiful, but also sheds water! Our Polycarbonate Sheets are semi-transparent, and block out 90% of UV Rays, keeping your Pergola cool, while leaving you plenty of light. Polycarbonate Sheets are flashed under your shingles and come with a 10 Year Warranty!
With our PATENTED Sunset Universal Pergola Attachment System you can attach your pergola just about anywhere on your house.
Attach to a Wall or Fascia
Attach on Top of Roof
Attach Under Soffit
Attach Pergola Kit to...

"Southern Comfort" Watertight Pergola Kit
Extend your patio with "Southern Comfort" Watertight Pergola Kit. Our kits can be installed by two people in one day! Our PATENTED Sunset Universal Pergola Attachment System makes attaching your Pergola to any part of the house EASY! Against a wall, on top of your shingles, or even under your soffit, our system gives you the ultimate in flexibility. We don't pre-drill holes that require exact placement of your posts and limit your overhang. Our 5" Self-starting Lag Screws allow you to attach all structural members using bits that we provide. Just allow 3"-4" of Fall away from your house for water run-off. Attach the Polycarbonate Sheets and Flashing with the screws provided, and you'll be enjoying your extra patio space in no time…protected from the SUN AND RAIN!
With a "Southern Comfort" Watertight Pergola Kit you get:
PATENTED Sunset Pergola Kits Pergola KitsUniversal Pergola Attachment System
8" X 8" X 10' Posts
Double Cedar 2" X 12" Sandwich Beams (You Pick the Decorative Notched End)
2" X 8" Cedar Mid-Beams (Decoratively Notched)
2" X 6" Cedar Top Layer on 6" Centers (No 2" X 2"s Here!)
You Pick the Stain!
Hardware, Drill Bits, Drivers, Drawings, and Instructions to complete the job.
Solar Gray Polycarbonate Sheets Making Pergola "Watertight"(with Flashing)
Custom Bracing and Upgrades
* FREE SHIPPING TO THESE STATES ONLY *
Alabama
Arkansas
Florida
Georgia
Kansas
Kentucky
Louisiana
Mississippi
Missouri
North Carolina
Oklahoma
South Carolina
Tennessee
Texas
Shipping Zone #1: +$1,000
Arizona
Colorado
Illinois
Indiana
Iowa
Nebraska
New Mexico
Ohio
Virginia
West Virginia
Shipping Zone #2: +$2,450
California
Connecticut
Delaware
Massachusetts
Michigan
Minnesota
Nevada
New Hampshire
New Jersey
New York
Pennsylvania
Rhode Island
South Dakota
Utah
Vermont
Wisconsin
Shipping Zone #3: +$3,450
Idaho
Maine
Montana
North Dakota
Oregon
Washington
Zone Pricing
Shipping Zone #1: +$1,000
Shipping Zone #2: +$2,450
Shipping Zone #3: +$3,450
BUILD YOUR PERGOLA TODAY!
Watch Installation Videos
Start Building Your Pergola
Select A Kit Size From Below.
All Kits Are Measured Depth X Width… Custom Sizes Upon Request
Need help figuring out the size you need? Click here.
**Due to Overwhelming Demand, we are Only Offering Pergolas with "Oxford Brown" Stain and 8" X 8" X 10' Posts
Testimonials
Grady, here are the pictures! Everything turned out so great we love it! We can't thank all of you so much from the delivery people to Ericka and of course you Grady. The pergola is exactly what we were looking for an outdoor place that provides shade and a place to hang out. The design fit perfectly on our existing cement patio and looks like the whole project was done at one time instead of a span of four years.

Rod W.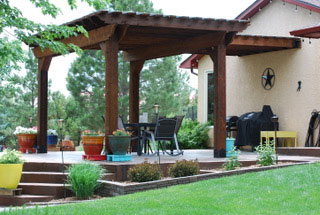 Grady: Mission complete!

Chuck C.